We usually have one to two national shows per year. Read about the latest shows below and other past shows in the menue on the right.
Up and coming shows:
No show now until February 2018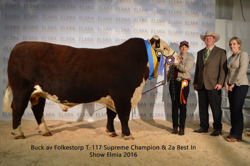 Buck of Folkestorp
was named
Supreme Champion at the ELMIA National Show.
He missed the Interbreed champion title by only 1 point!

Results in full here >>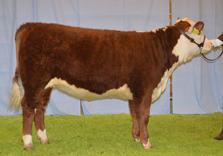 Almost for the fith time
- 2nd Interbreed championship.
7395 Bårarps Genna was Supreme Champion Hereford and 2nd Best in Show beef breed female!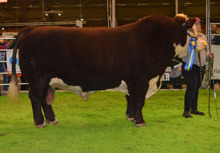 ELMIA 2015
FOR FOURTH SHOW IN A ROW A HEREFORD WAS NAMED THE INTERBREED / BEST IN SHOW FEMALE!
158 AMORY DIESEL AV BRUNARED P
WAS AWARDED THE TITLE AT ELMIA 2015
SUPREME CHAMPION HEREFORD AND 2ND BEST IN SHOW MALE
WAS ORIGO ROCKY
Mila National Show 2015
A Hereford won the Interbreed Champion Female for the 3rd show in a row!

Read more here >>