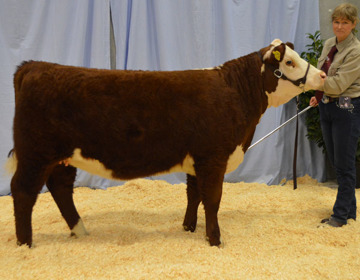 Judges: Karin Karlsson & Johan Sandström

Class 1 heifers born 2016-02-01 to 2016-04-30 (1 entrie)

1st. 7420 Bårarps Miss Firefly ET. CHAMPION FEMALE
Date of birth: 2016-02-07
BW 42kg WW 275kg
Sire: Harvie Ringo ET 306U
Dam: Harvie Ms Firefly ET 186W
MGS: PW Victor Boomer P606

Mix 104 Pix 106 Fix 97 Aix +5

Owner/breeder: Bårarp Hereford AB, Slättåkra (In the evening, half the heifer was sold to Jan Nilsson through the elite sale)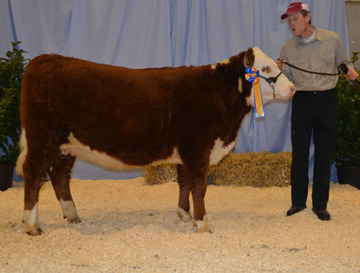 Class 2 heifers born 2015-12-01 to 2016-01-31 (2 entries)

1st. 670 Holly av Gylteboda. RESERVE CHAMPION FEMALE
Date of birth: 2016-01-12
BW 40kg WW 269kg
Sire: AXA Golden-Oak Xceed ET
Dam: 1672 Munka Holly ET
MGS: AB JWR Demolition 6008 3510

Mix 107 Pix 101 Fix 102 Aix +5
Owner/breeder: Jan Nilsson, Gylteboda

2nd: 667 Silvia av Gylteboda
Date of birth 2016-01-02
BW 47kg WW 295kg
Sire: Golden-Oak Fusion 3S
Dam: 576 Silvia av Gylteboda
MGS: Redgate Redford

Mix 113 Pix 114 Fix 103 Aix +17

Owner/breeder: Jan Nilsson, Gylteboda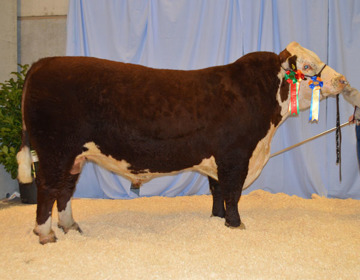 Class 5 Bulls born 2013/2014 (1 entrie)

1st. 534 Buck av Folkestorp T-117. BEST IN BREED
Date of birth 2014-01-08
BW 42kg WW 335kg 3YW 635kg
Sire: Golden-Oak Fusion 3S
Dam: 455 Goldilocks av Folkestorp
MGS: 7086 Hasse av Stendala

Mix 117 Pix 117 Fix 103 Aix +25

Breeder: Eva Nilsson, Folkestorp
Owner: Bårarp Hereford AB, Slättåkra.

HEREFORD RESULTS FROM THE ELITE SALE

There were three Hereford lots (15 in total of different beef breeds) at the Elite sale at the show. The high seller was Pick of the Herd - in-calf cow at Svanaholm which went under the hammer for 42.000SEK to Björn Bentevik in Nyköping.
The next Hereford lot and 2nd high seller was Pick of the Herd - heifer calves born 2017 at Ingemanstorps Herefords which sold for 33.000SEK
7420 Bårarps Miss Firefly ET was the first lot of all breeds to go under the hammer and it fell at 31.000SEK to Gylteboda Herefords who chose to buy half the heifer.